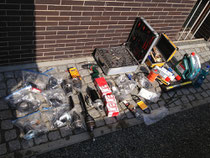 Hier kommt der letzte Bericht vor unserer Abfahrt (18.3.13).
Das lange Warten und die Arbeit hat fast ein Ende. Nach 1 ½  Jahren Schrauben am Bulli, ist er bereit für die erste große Reise. Das ehemalige österreichische Bundesheer Fahrzeug Names `Berta`wurde zu einem Camper umgebaut. Nicht nur der Käufer, sondern auch die zahlreichen Freunde, blicken auf meist lustige, teils aber auch langwierige und nervenaufreibende Tage zurück. Abgerissene Schrauben, schlechte Qualität gekaufter Teile, stundenlange Recherche im ig16 syncro-Forum nach Schraubertipps oder ein leerer Geldbeutel konnte – meistens – nicht aus der Ruhe bringen. Auch das Vorhaben "Zulassung des Importfahrzeuges" wurde abgehakt. Nervliche Grenzauslastungen unsererseits, wie auch der Familienmitglieder ließen sich nicht vermeiden. Berta könnte vermutlich komplett mit Qittungen, Tüv-Berichten, Behördenpapieren, ABE's, Teilegutachten oder wie sie auch alle heißen gefüllt werden. Wir werden euch aber mit den Geschichten hier nicht überfallen, weil es unser Land auch nicht besser machen wird. Es wurden ebenso alle Rechnungen und Kontoverbuchungen in den Papierkorb geschmissen, um keine Endsumme für dieses Vorhaben auf Papier zu haben. Es wird das beste nach 4 Kurzzeitkennzeichen, 3 Tüv-Besuchen, 10 Besuchen bei der Zulassungsbehörde und gefühlten unendlichen Telefonaten bezüglich einer Sache: EIN deutsches Kennzeichen für Berta.
Das Vorhaben 2four6 stand immer fest, verlor nie an Boden. Für Interessierte hatten wir immer stets versucht den Ausbau mit Bildern zu dokumentieren. Allerdings nur mit Handy. Oft fehlte einfach eine dritte Hand für Bilder. Eine fettfreie Hand hätte natürlich dem Handy auch nicht geschadet. Wir möchten uns hier nochmals bei allen eifrigen Helfern bedanken. Von intensiven Schreinerarbeiten bis zur weiterführenden Antwort im Internetforum.
Am 18.3. ist unsere geplante Abfahrt. Nach einer kurzen Testfahrt, welcher sich gleich als Härtetest für Mensch und Maschine herausstellte, wurden Kleinigkeiten am Fahrzeug optimiert. Das wichtigste: Berta trotzte dem starken Schneefall, flog ohne Probleme über die Straße im Vierradantrieb. An dieser Stelle schon einmal ein riesen Dankeschön an 'Premio Reifen+Autoservice Griesheim', die uns bei den grobschlechten All-Terrain-Reifen unterstützt haben. Auf der Strecke von Darmstadt-Nürnberg und zurück hatte Berta keine Panne. (Wenn wir den leeren Tank mit anschließender Gelber-Engel-Hilfe mal außen vor lassen. Wir wissen zum mindestens nun, dass die Tanknadel im unteren Bereich nicht mehr genau ist und dass eine ADAC Mitgliedschaft noch vorhanden ist ;-) )
Die Tour wird über München Anfang nächster Woche gestartet. Dort wird Berta mit all den Sponsoren beklebt. Da es viele Sponsoren geworden sind – FREU – wird das Drucken/Bekleben sicher einen Tag in Anspruch nehmen. Berta wird sicher heiß aussehen im neuen Sponsoren-Kleid.
Nach einer letzten Nacht in beheizten Räumlichkeiten bei Freunden in der Nähe von München geht es dann weiter in den Süden Bayerns, wo wir einen kurzen Aufenthalt haben werden. Zügig erkunden wir dann Österreich, als erstes ausländisches Gefilde. Weiter geht es wie geplant über Slowenien in den Balkan. In den ersten Wochen müssen erst einmal unzählige Reiseführer durchstöbert werden, bevor wir euch eine genaue Routenplanung präsentieren können.
Wir hoffen auf zahlreiche offene Wlan-Netzwerke, um euch immer die neusten Updates zu geben.
So. Berta ist so gut wie gepackt: 2 Windrufbretter plus Segel und Masten, ein Wellenreitbrett, Elektronische Geräte, für jegliche Art der Dokumentation und natürlich: eurer Gegenstände! Ersatzteile...dürfen nicht fehlen...ist auch eine größere Ladung dabei.
Spannende 15000km erwarten uns. Lasst uns beginnen!
Here is the last report before our departure on march 18th 2013:
The long wait and all the hard work is almost over. After a year and a half of working on the Bus, it is almost ready for the big trip. The former Austrian Armed Forces vehicle named Berta was refurbished and converted into a Campervan. Not only the puchaser, also many others who have helped us on this project look back at funny days as well as nerve-racking days. Tattered screws, bad quality of purchased parts, hour-long research in the ig16 syncro forum for hobby mechanic tips or an empty purse couldn't stop us. Additionally we were stocked when our "authorization of the vehicle" plan was successfull. Stressfull situations and nervraking moments on our part as well as our family members were unavoidable.
We could probably fill Berta completly up with all the receipts, Technical Inspection Agency reports,department papers, ABE's, experts reports of the parts, ect...
but we are not going to bore you with all those stories because it's not going to make our "country of bureaucracy" any better.
We through all the bills, receipts and bank statements away so we will not be reminded of the total expenses of this plan. It`s going to be the best thing to do after 4 temporary license plates, 3 Technical Inspection Agency visits, 10 visits at the licensing authority and endless phonecalls for only one thing: ONE german license plate for Berta.
The project 2four6 was always certain,we never ceded ground. For people who were interessted we always tried to document the remodelling with pictures. Only with cellphone pic's unfortunately. We didn't have a third hand for photos. An oilfree hand would have been good for the phone too, obviously.
We would like to thank all our enthusiastic helpers for everything from usefull answers in our internetforum to intensive carpentry.
On march 18th is our planed departure. After a short testdrive, which showed up to be an endurance test for human and mashine, we optimized a few little things on the vehicle. Most important: Berta resisted the heavy snow, cruised over the road with it's 4weel drive.
At this point thank you to Premio Reifen+Autoservice Griesheim who supported us with All-Terrain-tires. On the way from Darmstadt to Nürnberg Berta didn't have any beakdowns.(we won't mention we ran out of gas and got rescued by ADAC breakdown service...we now know that the fuel gauge mark indicator is not accurate and that we still have an ADAC breakdown service membership.)
We will start our trip in Munich. There we will stick all the sponsor stickers on Berta. Because there ended up being a lot of sponsors – to our great delight – it will probably take a whole day to get all the stickers on the bus. We're confident Berta will look pretty hot in her new sponsor-dress!
 After a long night at a friends house close to Munich we will move on to the south of Bavaria where we will have a short stay. Soon we will head to Austria as our first foreign country. From there we move on to Slovenia in the Balkan. In the first few weeks we will have to rummage through tuns of travel guides before we can present you our complete route.
We hope to find tons of free wifi networks to keep you guys updated.
Well...Berta is almost packed: 2 windsurfboards plus sail and mast, one surfboard, electronic device for every type of documentation and of course: your personal objects! And of course a bigger load of replacement parts not to forget.
translation by jessi