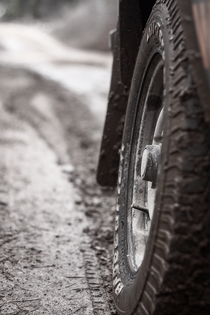 ...angekommen im Soca-Tal, machen wir uns auf die Suche nach einem schönen Stellplatz am Fluss gelegen.  Während der Suche treffen wir einen Einheimischen an. Hilfsbereit möchte er den Weg weisen. Im gebrochenen Deutsch bauen wir ein Gespräch auf, in dem er uns über seine militärische Vergangenheit aufklärt. Während des Gespräches mit Lucas, lässt er sich unzählige Male von Steffen ablichten. Uns fällt die unglaubliche Freundschaftlichkeit und Hilfsbereitschaft des Slowenen auf, welche uns im ganzen Land immer wieder begegnet. Nachdem wir ihn endlichen abwimmeln konnten, denn er hatte sichtbar nochmehr Zeit als wir, fanden wir im nächsten verschlafenen Dorf eine abgelegene Piste, welche in Richtung Fluß führte. Diese entpuppte sich als anspruchsvolle Offroad-Piste. Für ein wunderbares abgelegenes Plätzchen nahe des Flusses wurden Felsen versetzt, Bäume aus dem Weg geräumt und spektakuläre Bilder vom Syncro geschossen. Abends wurde das Rauschen der glasklaren turkis schimmernden Soca genossen, während morgens die dt. Nationalmannschaft des Kajaks Sports in ihren Booten an uns bei Frühstückszeit vorbeirauschte. Gestärkt mit  Mozzarellaomlette mit Speck wurde uns nochmals bewiesen, dass die Slowenen sich weniger stressen lassen als die Deutschen. Denn zwei Autos versperrten unseren Feldweg. Nach 15min waren beide Halter und Motivation gefunden und die Tour konnte Ein weiteres kleines Beispiel für slowenische Freundlichkeit: Die von uns falsch quittierte Banane zugunsten des Supermarktes, wurde von der Kassiererin nochmals in der Obstabteilung eigenhändig zu unseren Gunsten gewogen.
Innerorts auf Wlan-Suche begegnete uns eine junge Joggerin, welche uns neugierig über unser Vorhaben ausfragte und schwärmte, dies auch gerne zu tun.
Nachdem der Bus abermals am Fluss abgestellt war, schafften wir es Dank "angenehmen" Temperaturen unsere Haare in der eiskalten Soca zu waschen. Beim zweiten Anlauf die Grillkohle zum glühen zu bringen, gab es festliches Essen: Hähnchenbrustsalat (Mais, Eisbergsalat, gegrillte Hähnchenbrust, Paprika, Ei, Tomaten, Käse) an Senf-Knoblauch-Ölsauce. Als Schmankerl gab es Grillkäse vom österreichischen Hofladen und gegrilltes slowenisches Brot in Olivenöl.
Wegen Matsch, Schnee und keiner Möglichkeit zu nächtigen in der Cerknisko-Ebene, fuhren wir weiter kurz vor die kroatische Grenze. Auf dem Weg ereilte uns auch noch ein Kabel bzw. Motorbrand des hinteren Heizungslüfters, welchen wir glücklicherweise frühzeitig bemerkten. Folglich stank es weitere Tage im hinteren Bereich nach verbrannten Motor. Am nächsten Morgen gab es Vitamine pur mit einem Früchtemüsli und frisch gepressten Orangensaft. Nach Recherchearbeit und Wettervorsagen beschlossen wir das zugeschneite Slowenien zu verlassen und Richtung kroatische Küste aufzubrechen. An der Grenze bei Prod na Kupi sollten wir gleich drei mal unsere Ausweise vorzeigen. Nachdem der Grenzbeamte sich über unsere Personalausweiskopie amüsiert hatte und diese sogar gleich behielt fuhren wir über schlecht asphaltierte Strasse und Schotterpisten in Richtung Adriaküste.
Nun sitzen wir an einem schönen Stellplatz an der Schotterpiste mit Blick auf die kroatische Insellandschaft.
Zdravo
...arriving in the Soca-Valley, we started looking for a nice place to settle somewhere nearby the river. During our search we met a local who was willing to guide us the way. In broken german we started a conversation about his military past. While talking to Lucas, Steffen was able to take some shots. To us the kindness and helpfulness of the Slovenes is obvious and we got to face that in the whole country.
After ending the conversation successfully, he obviously had more time than we did, we moved on to the next sleepy town and finally found a remote track heading to the river. It turned out to be a demanding off-road track. To create a wonderful spot nearby the river rocks and tree-trunks had to be moved and shots of the Syncro were taken.
In the evening we got to enjoy the roar of the crystal-clear, turquoise shimmering Soca while the next morning, during breakfast-time, the german national kayak-team zoomed past. Strengthened by an mozzarellaomelette with bacon, we once again experienced the calmness of the Slovenes. Two cars were blocking the way from the river but 15 minutes later we found both, the owners and their motivation to move their cars, and we could finally continue the tour.
Another example for the strinking slovenian kindness: The cashier of a supermarket personally went to weigh our bananas after we had mistakenly weighed them for the benefit of the supermarket.
Back in town, searching for WI-FI, we met a young jogger who was curious about our trip. She questioned us for details and seemed to be crazy about going on a trip herself.
We settled at the river again, and thanks to the 'pleasant' temperature we were able to wash our hair in the ice-cold Soca.
After the second, successful attempt to to heat up the barbecue coal we had a festive meal: Salad with chicken breast (corn, iceberg lettuce, grilled chicken breast, paprika, eggs, tomatoes, cheese) with mustard-garlic-oil dressing. On top as a treat we had grilled cheese from a farm shop in Austria and grillede slovenian bread in olive oil.
Mud and snow everywhere, we had no opportunity to sleep in the Cerknisko-plain so we moved on and stopped near the croation border.
Unfortunately on our way an electrical or rather motor fire of the fan heater surprised us. Luckily we noticed the fire early enough. The next couple of days the back of the car smelled like burnt motor.
The next morning we treated ourselves with loads of vitamins by having fruit-muesli and freshly squeezed orange juice.
After doing some research and studying the weather forecast we decided to leave snowy Slovenia and head to the direction of the croatian coast.
On the border near Prod na Kupi we were asked to show our passports three times. The copies of our IDs caused some serious amusement by the border official so that he decided to keep them. Continuing our trip from there on we passed some poorly asphalted streets and dirt roads towards the Adriatic coast. Right now, we are sitting on a nice pitch viewing the croatic islands.
Zdravo.
-translation by lisa-