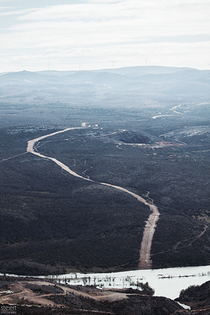 auf nach krk! Flucht vor dem Schnee! zuvor noch die letzten Bilder hochladen und kurz abchecken, wer an Lucas´ Ehrentag gedacht hat. Für 46 Kuna durften wir die Brücke auf die Insel Krk passieren. Nach wenigen Metern versuchten wir gleich über nicht kartierte Wege den bestmöglichen Stellplatz an der Westküste zu finden. Nach Google-maps-Recherche in einer der Touristendörfer an der Küste, zwangen wir Berta über sehr enge, steile und verwachsene Geröllpisten in eine abgelegene von Olivenbäumen gesäumte Bucht. Der ununterbrochene Regen vermieste nicht nur die Idylle der Bucht, sondern auch unsere Stadttour durch Krk. Überflutete Gassen, nasse Schuhe jedoch ein touristenleerer Ort.
Wir fuhren weiter an die Nord-Ostküste mit einem Zwischenhalt bzw. Einkauf an einem Weingut und steuerten den Hausstrand von Vrbnik an. Nach einem Mittagsspaziergang an der Küste, versuchten wir uns an jenem weiteren Regentag einen typisch südländischen Abend am Strand mit Spaghetti Öl-Salbei-soße und Krker Wein zu machen. Die lauten Schießübungen der zwei Kroaten unweit vom Bus entfernt, konnten uns nicht aus der Ruhe bringen.
Am Folgetag wurde eine regenfreie halbe Stunde genutzt, um das nett Örtchen Vrbnik anzuschauen. Da der Regen unermüdlich blieb nutzen wir unsere Wlan-Technik, um ein weit entferntes Netz der Küste einzufangen und die Homepage zu aktualieren. Die  letzte Nacht auf der Insel verbrachten wir an einem ruhigen Stellplatz nahe Klimno am Meer mit Blick auf das Festland. Nicht nur ein trockener Abend bei Plusgraden war ein Highlight, sondern auch das Gegrillte mit Salat und Baguette.
Über eine tief verschneite Passstrasse ging es wieder ins Landesinnere. Über die Stadt Ogulin und ehemalige Kriegsgebiete schlängelten wir uns über verschneite Pisten in das Städtchen Slunj, in dem wir ein altes Mühlendorf mit seinen Wasserfällen besichtigten. Schneematsch und Kälte ließen uns nicht lange verweilen und es ging weiter an die Plitiver Seen. Tiefer Schnee erwartete uns auch dort, aber dafür umso weniger Touristen und bessere Fotomotive aufgrund der schönen Kontraste. Von der Tatsache, dass die oberen Seen und die meisten Wege der unteren ebenso gesperrt sind, erfuhren wir erst nach dem Ticketkauf für den Nationalpark. Nachdem wir fast alle möglichen Besichtigunspunkte abklapperten und die Natur genossen hatten, machten wir uns auf den Weg in südlichere Sveti Rok. Geplant war die Offraod-tour mit dem Reiseführer nach Obrovac, welche aufgrund durch Schnee nach 16km Fahrt scheiterte. Wir entschieden uns, nicht den weiten Umweg zurück zu nehmen, sondern einer Autoreifen-spur eines kurz zuvor gesehenen kroatischen Jeeps zu folgen. Anfangs verlief die Spurverfolgung aufgrund der Schneeverhältnisse gut und die Straße ließ sich bis auf wenige Hindernisse befahren. Neben unserer roten Schotterpiste zieht das vereiste Land vorbei, durch Einschlagslöcher und Mienenwarnschildern gekennzeichnet. Die  kurzeitig attraktive Schotterpiste schlängelt sich bald durch dichten Wald und unsere einzige Spur endet plötzlich in einer Sackgasse.  Die Glückseligkeit springt schnell in Spannung über. Der Tankinhalt geht zur Neige. Das Gaspedal klemmt manchmal und springt nicht zurück. Wir irren nun mehreren Spuren hinterher und versuchen mit unserem Navi die Himmelsrichtung zu halten. Der dichte Wald gibt uns keine Möglichkeit zur Orientierung. Nach ca 1,5h folgen wir wieder einer einzelnen Spur. 2 Stunden und 40km später öffnet sich der Wald und wir stoßen auf die Haupttraße 27. Unsere5 Liter Reservesprit reichen bis zur nächsten Ortschaft.
Auf dem Weg zu unserem nächsten Stellplatz gabeln wir eine kroatische ältere Dame auf, die eine Mitfahrgelegenheit zu ihrem Haus in der nächsten Ortschaft suchte. Sie lud uns als Dank auf einen südländlischen Kaffee (Plörre) in ihrer bescheidenen Wohnung ein. Stolz erzählte sie mehrmals von ihren Olivenbäumen und versuchte weitere Geschichten über Gott und die Welt auf die Nase zu binden. Unsere Kroatischkenntnis hielt sich leider in Grenzen und wir nickten daher häufig einfach nur.  Nach einem kleinen Abschiedsfoto – natürlich vor ihrem ganzen Stolz dem Olivenbaum – fanden wir einen klasse Stellplatz am Meer nahe Gornji Karin und genießen in diesen Moment den ersten ganztätigen Sonnentag seit Tourstart!
Off to Krk! Escaping the snow. But first uploading the latest pictures and checking who actually thought of Lucas' special day. Paying 46 Kuna we were allowed to cross the bridge to the island of Krk. Just a few metres later we tried getting off the mapped roads in search for a good site near the west coast. Following some Google-maps-research we ended up forcing Berta along some really narrow, steep and overgrown tracks arriving at a remote, olive-tree lined bay. Constant rain spoilt both idyll of the bay and our short trip to the city of Krk. Flooded streets and soaked shoes but at least not a tourist filled city.
We continued driving to the north-east coast stopping over at a vineyard for some shopping and then heading to the beach of Vrbnik. After taking a walk along the coast on another rainy day our attempt was, to prepare a typical southern european evening at the beach having Spaghetti with oil-sage-sauce and wine from Krk. We couldn't even be bothered by the loud firing practice of two Croats not far from our bus.
The following day we used the half hour of no rain to visit the small town of Vrbnik. Since the rain did not decide to stop we then used our WI-FI technology to find a signal from across the coast to update the homepage. Our last night on the island we spent at a quiet spot near Klimno by the sea viewing the mainland. Not only the rain free evening and the plus temperatures but also the grilled stuff accompanied by salad and baguette were our highlights of the day.
Crossing a snow-covered pass we were heading back to inland areas. Via the city of Ogulin and former war zones we winded our way cross some snow-covered tracks in direction of the city of Slunj where we got to visit an old village known for its mills and waterfalls.
Slush and coldness couldn't make us stay so we drove on to the lakes of Plitiver. Deep snow was awaiting us again but positive was the lack of tourists and the beautiful photo motifs due to the beautiful contrasts. Only after purchasing the tickets for the national park we discovered the fact that the lakes and a lot of paths were blocked. After visiting all the points of interest and enjoying the nature we made our way to Syeto Rok in the south. Next planned was an off-road tour to Obrovac using only the travel guide but the plan failed after 16 km due to too much snow. We decided not to take the detour back but follow the skid marks of a Jeep we had seen shortly before. At first the trace could be followed easily because of the snow and also the road was easy to drive except for a few obstacles. Just next to our red track  we drift past an icy landscape marked by holes and labels warning of mines. The seemingly attractive track soon started to lead through a thick wood and suddenly our only trace lead us to a dead end. Former bliss rapidly changed into tension. The content of the tank is slowly coming to an end, the gas pedal sometimes gets stuck and doesn't jump back immediately. We wander around following severeal traces and try to keep the direction using our GPS. The thick woods leave no opportunity for orientation. 1,5 hours later we once again follow a single trace. 2 hours and 40 km later the wood opens up and we meet the main road 27. Our 5 l of reservere allows us to reach the next village. On our way to the next site to stop at we picked up an elderly croatian woman who was seeking a lift to her home in the next village. To express her thanks she invited us to have some coffee in her modest apartment. She proudly talked about the olive-trees she owns and kept telling us stories about god and the world. Due to the language barrier our responds consisted mainly of nodding. After taking a farewell picture -  of course in front of her pride the olive tree – we were able to find a great spot by the sea near Gornji Karin. Right now we are enjoying the first all-day sunny day since starting the tour.
-translation by lisa-