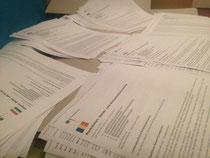 Nach zwei Wochen in Deutschland ist es nun entschieden. Wir fahren weiter! Aber erst mal von vorne. Nach dem schwarzen Tag in Frankreich war unsere entspannte Zeit vorerst vorbei. Versuche über Versicherung das Diebesgut teilweise ersetzt zu bekommen schlossen sich an. Rasch und ungewollt wurden wir in den deutschen Alltag geschmissen. Die unglaubliche Umstellung auf das Leben in Deutschland hätte uns nach der Reise alleine genügt. Jedoch wir durften uns mit Paragraphen der Versicherer rumschlagen, arbeite gehen und die Datenverluste auf Rechnern und Handys wieder wett zu machen.
Stets erinnerten wir uns an die schönen Momente der Reise und versuchten nie unser lang geplantes Vorhaben abzubrechen. Zwei Monate wollten wir uns nicht nehmen lassen. Jedoch anfangs sah es nicht gerade nach einer Weiterfahrt aus. Von der Versicherung kam lediglich ein A4 Blatt mit der Antwort, dass kein Cent gezahlt wird. Wir müssen feststellen, dass es für uns keine Versicherung gibt, die solche Schäden abdeckt. Auch nicht in Zukunft. Neue technische Geräte benötigten wir berufsbedingt allerdings schnell. Auch der Bus wollte Zuneigung. Am Fahrwerk wurde viel ersetzt sowie andere kleineren Pannen, welche wir aufgeschoben hatten, waren nun fällig. Für die Schrauber unter uns hier wieder neue Bilder (unten). Das Budget schrumpfte stets. HALT! Unsere Spendenseite. Ja, nicht bei allen unserer Follower, Freunden und Bekannten kam dies gut an. "Urlaubsspaßtouristen die Reise finanzieren?!"
Keiner wird gezwungen. So lief die Aktion schnell gut an, ja wir waren sogar überrascht. Man spendete nicht nur für weitere schöne Impressionen von Regionen Europas, die man nicht ständig zu Gesicht bekommt, sondern für die Berichte, für den Datenverlust nach dem Diebstahl ebenso...jeder hatte seine eigenen Beweggründe. Wer für andere Kampagnen mit höherem "Nutzen" spenden will, kann dies natürlich machen – ja wir hoffen es, damit die Welt gerechter wird!
Der Spendenbetrag wuchs stets an. An einer Weiterfahrt wurde immer weniger gezweifelt. Mit den Sponsoren uni-recycling und waoh war sogut wie alles gerettet. Nun gut. Wohin? Anfangs wurde der Norden mit Schweden, Norwegen und Finnland angepeilt. Je mehr wir recherchierten stellten wir fest, dass unser Budget in Kombination mit der zu erwarteten Fahrstrecke in den weiten des Nordens nicht zusammen passte und uns ein Strich durch die Rechnung machte. Frankreich war raus! Es war aber nicht nur die Wut, sondern auch das Geld. In der Hauptsaison in Spanien und Portugal hätte man uns sicher oft auf teure Campingplätze verbannt. Wir orientierten uns mehr Richtung Osten.
Nachdem das Spendenziel erreicht war, Lucas Konto die Wartungs-und Umbaukosten am Bus überlebt hatte und wir uns wieder sortierten hatten, wurde eine grobe Route gesteckt. Kommenden Freitag brechen wir mit Zwischenstopp bei Grafikfirma - die Sponsorensticker auf dem Bus erweitern - nach Österreich, Ungarn, Rumänien, Slowakei und zuletzt Polen auf. Einen genauen Routenverlauf wird es vorerst nicht geben, da unsere Literatur noch nicht mal eingetroffen ist geschweige denn durchgelesen ist. Stichwörter wie Donaudelta, Karpaten und polnische Seen sind schon gefallen. Das Windsurfbrett und Wellenreitbrett bleibt zu Hause, da die Atlantikküste ja "raus" ist. Badehose raus und Matschschuhe rein. Wir freuen uns auf weitere spannende Kilometer!
Wir sagen Danke für die Spender! Danke für die Hilfe aller Freunde und Verwandten, die uns beide aufpeppelten, ermutigten und wo es ging unterstützten. So. Genug geredet. Wir haben bis zur Abfahrt noch viel zu tun. Das Auto leer und unsere Köpfe noch nicht ganz in Osteuropa.
Achso...das Buch...existieren tut es momentan – wir sprechen es ungern aus – nicht mehr. Wie es weitergeht? Bisher war noch keine Zeit darüber in Ruhe nachzudenken. Erst mal wieder vier Räder unter uns kriegen.

After two weeks in Germany it is decided. We continue our tour! But lets start from the beginning. After the black day in France, for the moment the relaxed time was over. Attempts to get the stolen property partly replaced over insurance followed. Quick and unwanted we were thrown into the german daily life. The unbelievable adjustments to life in Germany would have been enough for us after the journey. However we had to cope with paragraphs of the insurance and work a lot for compensating the loss of the computers and phones.
We constantly thought about the great moments we had during our jurney and never really considered quitting our long planned project. We didn't want to let the last two month be taken away from us. Hoever at the beginning it didn't seem like we could continue. From the insurance a A4 sheet was sent to us saying that we won't get anything. We had to see that in our case there was no insurance covering the loss. Nevertheless we needed new machinery for occupational reasons as quick as possible. Also the bus asked for some affection. Much was replaced at the chassis and we took care of other smaller issues we had postponed. For the mechanics around you can find some new pictures here (down there). The budget was constantly shrinking. STOP! There was still our donation webpage. Well, not all our followes and friends liked the idea of donating. "sponsoring a journey of vacation fun tourist ?!"
Nobody was forced. So the compaign started of well. We were indeed surprised. It was donated not only for further beautiful impressions of regions in Europe you don't get to see that much but also for the reports and the data loss. Everybody had their own motive. For the ones who want to donate for other campaigns with a higher benefit, feel free to do so – yes, we actually hope so for that the world will be a little more fair.
The subscription rose constantly. The continuation of the journey was doubted less and less. Thanks to the sponsors uni-recycling and waoh we were safe. Alright. But where to go? At first we steered for the north, Sweden Norway and Finland. But the more research we made we figured that our budget in combination with the distance to be covered wouldnt go together. France was definately out. It wasn't only our fury but also the money. During the peak season in Spain and Portugal we would have ended up on expensive camping sites. So we steered to the east.
After reaching our donation goal, Lucas' bank account surviving all the maintenace costs fort he bus and sorting ourselves we marked out a route. Starting off the next friday stopping at the graphiccompany – extending the sponsorsticker on the bus – to the direction of Austria, Hungary, Romania, Slovakia and last but not least Poland. There won't be an exact route as of now as we didn't received the ordered literature yet read it. Things like Danube Delta, the Carpathian Mountains and polish lakes have come up. The surfequipment is left behind at home as the atlantic coast is 'out'. Swimming trunks left out hiking boots get in. We are looking forward to further thriling kilometers.
So now we want to thank the donators. And thank you to all our friends and relatives who helped us recover by encouraging and supporting us. Now, enough of the talking. We have a lot to take care of before setting off. The car is empty and our heads not yet in Eastern Europe.
Oh... the book. Right now – we don't like to say it – it's not existing. We don't know how it goes on as we didn't really had the time to think that through. Now it's getting four wheels beneath us again.
-translation by lisa-