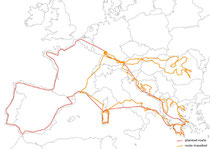 Nach langer Stille in unserem Blog gibt es nun viel zu berichten. Am 6. September endete unsere Reise. Sechs Monate erlebten wir viel. Viel Gutes und nur wenig schlechtes. Auf die Frage, ob wir es wieder machen würden, antworten wir klar mit JA und empfehlen es gleich jedem in unserem Alter. Kulturen, Menschen, Städte und Landschaften kennenlernen, erfahren und erleben ist ein MUSS. Jegliche Vorurteile stellten sich als falsch heraus. "Der klauende Albaner?" - Freundlichkeit wird in Albanien zu groß geschrieben, dass es uns oft unangenehm wurde. "Bosnien, da kann man doch kein Urlaub machen mit den Minen" - Mit Verstand und Augen ist das heute kein Problem mehr. Sicherer als auf dem Darmstädter Luisenplatz haben wir uns an manchen Tagen in Bosnien gefühlt. Hilfsbereitschaft und Freundlichkeit: größer als in Deutschland. Und was ist mit dem Westen? Weit haben wir es zwar nicht geschafft, jedoch attraktiver für Individualreisende ist und bleibt erst mal der gesamte Osten. Frankreich verliert - Mazedonien gewinnt.
Unsere Listen sind lang. Moralaposteln wollen wir auch nicht sein. In unseren Köpfen bleibt die Reise für immer. Vertragen haben wir uns beide in den Sechs Monaten super. Kleine Unstimmigkeiten gibt es immer zwischen Menschen, sie sind sogar ein Muss.
"Weg" wissen wir nun auch wie man es definiert. Das Buch war weit, aber leider nur eine Datei zwischen vielen auf dem geklauten Laptop. Das Projekt Buch liegt erst mal auf Eis. Der Alltag hat uns wieder und Zeit bleibt nicht viel.
Europa ist spannend! Wir wollen das teilen. Wenn es schriftlich nicht geklappt hat, haben wir investiert. Zeit und ein wenig Geld. Ausgewählte Impressionen von der Reise. Sie sollen animieren zu Reisen, den Alltag mal im Stich zu lassen,über Kulturen berichten....nach dem alten Motto: Bilder sagen mehr als tausend Worte. Unzählige großformatige Bilder haben wir auf Leinwand gebracht. Ein Weihnachtsgeschenk für die Sinne auf unserer Fotoausstellung in Darmstadt.
Bilder gibts hier!
Closing exhibition
After a rather long break on our blog there are some news we want to share. Our trip came to an end on september, 6th. Over a period of six months we were able to experience a lot. A lot of positive things and a few bad. To answer the question if we would do it again we respond with a loud and clear YES. Also we want to recommend such a trip to everybody in our age. Getting to know and experience various cultures, people, cities and regions is a must. Any prejudices appeared to be wrong. 'The stealing Albanian?' - kindness was a great trait of the Albanians, almost to the extent that we felt uncomfortable. 'You can't go on vacation to Bosnia with all the mines around.' - with a sane mind and open eyes that doesn't represent a problem. On some days we felt safer in Bosnia than in Darmstadt, walking the Luisenplatz. Helpfulness and kindness: greater than in Germany. So, what about the west. We didn't get too far, but still the east is more attractive to the individual travellers. France loses - Macedonia wins. Our lists are long but we don't want to come across as moralizers. In our minds this trip will stay forever. We got along really great during the six months. Some disagreements here and there are just normal, sometimes even a must.
We now have a clear vision of what 'gone' means. The book was well progressed, but unfortunately just another file on the stolen laptop. The book project is put on hold. The everyday life catched up quickly and consumes our time.
Europe is exciting and we want to share that. Since we can't do that in a written form as of now, we still invested some time and money to share selected impressions from our trip. They are supposed to encourage to travel and leave the daily life behind, to tell about different cultures... true to the motto: a picture paints a thousand words. We printed a great number of large-sized pictures to show you. A christmas gift for the senses on our photo exhibition in Darmstadt.
Pictures here!

-translation by lisa-